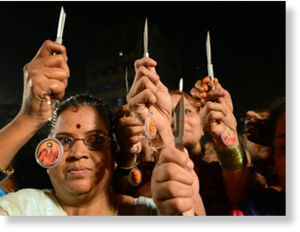 The Shiv Sena party has distributed knives and chili powder to women in Mumbai to send a message to 'eve-teasers' after the fatal gang rape of a student in Delhi last month, which has ignited a debate on India's appalling rise in sexual offenses.
The Shiv Sena party, an ally of the main opposition Bharatiya Janata Party (BJP), has distributed 21,000 knives with 3-inch (7 cm) blades to women in Mumbai and its surrounding areas and plans to hand out a total of 100,000.
"This is a symbolic gesture. Its only to pass a signal to eve-teasers, anti-social elements and perpetrators of crime against women that women are empowered and can take care of themselves," said Rahul Narvekar, a spokesman for the party. 'Eve teasing' is an Indian euphemism for molesting women.
"Don't be afraid of using this knife if someone attacks you. We have set up a team of nine advocates to protect you from any potential court cases that may arise." Ajay Chaudhari, who is running the knife campaign for Shiv Sena, was quoted as saying by the Party's newspaper, Saamana.