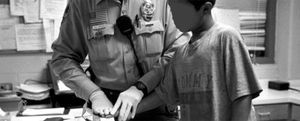 The 18th Executive Order signed by President Obama is to provide incentives (and funding) for schools to have police oversee the children. This
will
create results. Of all the other items concerning background checks and manufacturing specifics for future guns, there is no clear indication that there will be any tangible differences. Gun violence will continue with the 300 million guns in America, and millions more throughout the world. Some people who legally bought guns and have no criminal record or mental health issues will lose their mind and commit a crime. Whether we consider this an acceptable number or not depends as much on the media frenzy as on actual statistics.
School police, known as "Resource Officers" (perhaps for easier digestion) have been key builders of the
School to Prison Pipeline
. The fistfights and the joint in the bathroom do not result in detention or suspension anymore: now they are imprisonment, expulsion, and an often insurmountable mountain to climb towards any "normal" adult lifestyle. A 2011 report by Justice Police Institute,
Education Under Arrest: The Case Against Police In Our Schools
, would lead one to believe that the overall damage to a community is not justified by the vague possibility that the school is safer. In fact, there are indications that the police actually lead to
increased
violence in schools.
Fortunately,
NAACP Legal Defense Fund
, the Advancement Project, and others are
mounting a campaign
to let the President know what he is doing.