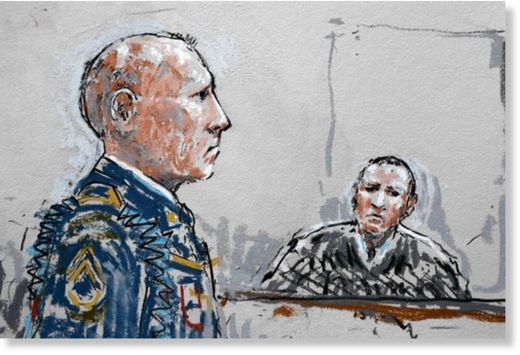 The American soldier charged with killing 16 Afghan civilians during nighttime raids on two villages last year pleaded guilty Wednesday then described shooting each victim, telling a military judge there is "not a good reason in this world" for what he did.
To avoid the death penalty, Staff Sgt. Robert Bales pleaded guilty to multiple counts of murder at the hearing at Joint Base Lewis-McChord south of Seattle. He then read from a statement in a clear and steady voice, describing his actions for each killing in the same terms.
Bales, 39, said he left the remote base where he was posted in southern Afghanistan in March 2012, and went to the nearby villages of mud-walled compounds. Once inside, he said he "formed the intent" of killing the victims, then shot each one.
"This act was without legal justification, sir," Bales told the judge while seated at a defense table, his handles folded in front of him.
Most of the victims were women and children, and some of the bodies were burned. Relatives have told The Associated Press they are irate at the notion Bales will escape execution for one of the worst atrocities of the Afghanistan war.