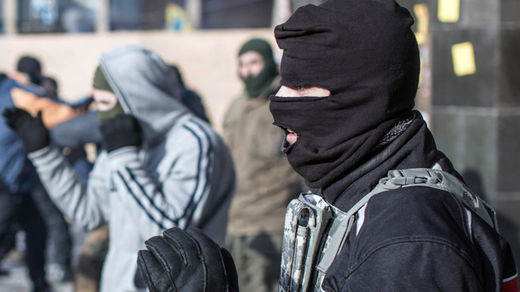 The recent robbing of passengers, traveling from Russia to Moldova via Ukraine's territory, by a local ultra-nationalist Insurgent Army is a manifestation of "anarchy," the Russian Foreign Ministry has said.
On March 21, the train, en route from Moscow to the capital of Moldova, Chisinau, made a scheduled stop in the city of Vinnitsa in central Ukraine.
"
To the horror of passengers...people dressed in the uniform of the Ukrainian Insurgent Army (UPA) got into carriages and began a 'document check'. People who showed Russian passports were then made to hand over their money and golden jewelry,
" the Russian Ministry said on Monday in a statement published on its website.
The robbery was accompanied with "political sensitization," diplomats said.
Moscow also said it was "bewildered" by
the refusal of the Ukrainian police to take any action
when the victims attempted to file a report.
"
That is the kind of 'rule of law' that is currently being formed in Ukraine
," the ministry said.
"
It seems that the anarchy of the beginning of the 20th century is reviving
."
A similar incident occurred with passengers traveling from the Ukrainian city of Krivoy Rog to the Russian capital, reported the NTV channel. However, this time it was either Ukrainian border guards or customs service officers who were involved.
According to passengers, during the border control procedure, Ukrainian officers grabbed passports from Russian citizens providing them with no explanation.
Passenger, Angela Piskokha, told NTV that Ukrainian officials then offered her the opportunity to buy back her own passport for 6,000 rubles (US$ 166).