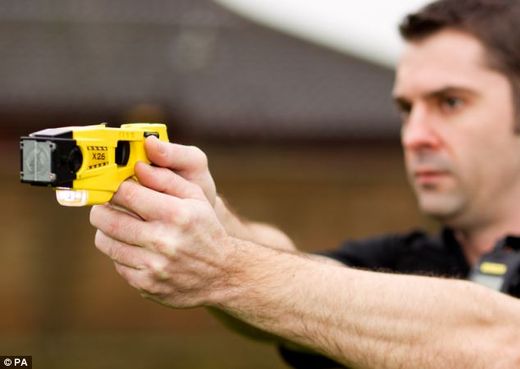 * Tasers used by officers 10,380 times in England and Wales in 2013
* Figure is up from from 8,161 deployments in the previous year
* Home Office data suggests the stun guns are used 28 times per day
* Follows growing fears the devices are being misused by officers
* Yesterday, PC Stuart Wright was only told to apologise after he shot blind Colin Farmer with a Taser thinking his stick was a sword
* In December, three teenagers with learning difficulties were Tasered
The use of Tasers by police officers has
surged by nearly a third to more than
10,000 deployments last year
, new data shows.
Use of the stun gun in England and Wales increased from 8,161 fires in 2012, to 10,380 in 2013 - Home Office figures reveal.
The figure, a 27 per cent increase, is the same as 199 uses a week, or 28 times per day.
The most common use of a Taser in each of the last two years was so-called 'red dot' use, accounting for 51 per cent of fires.