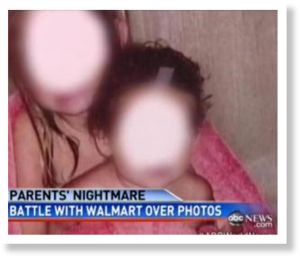 An Arizona couple is seeking justice after they were accused of using their three young daughters for child pornography.
The incident occurred in 2008 after A.J. and Lisa Demaree sent a memory stick full of photos to their local Walmart to get them developed. Eight of the 150 photos were of the girls - then ages 5, 4 and 1 ½ - during bath time, which a Walmart worker mistook for child porn and reported to the police. The police, in turn, reported the photos to child services.
"Some of the photos are bathtime photos," Lisa Demaree told
ABC News
at the time of the incident, "but there are a few after the bath. Three of the girls are naked, lying on a towel with their arms around each other, and we thought it was so cute."