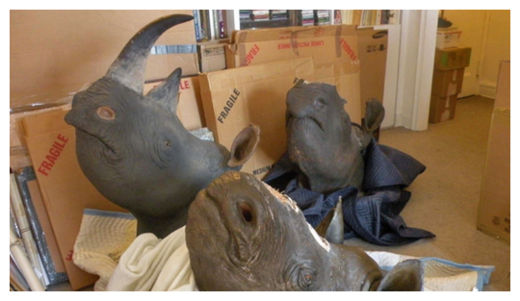 It was in most respects a typical
heist that happened in Dublin last month
. Masked men, roughed-up security guards, $650,000 in stolen booty. But this wasn't art or jewelry that was stolen. The contraband, instead, was four rhinoceros heads. Or, more specifically, their horns.
And this wasn't the first time. A
rhino-head heist spree
swept Europe in 2011, as thieves raided museums and auctions houses in seven countries, prompting
30 investigations by Europol
, 20 of which are ongoing. Similar heists have also been
on the rise in Africa
, as well as in the odd
American backwater town
. Meanwhile, an
online business
thrives as well - including one dealer on
Facebook who only accepts bitcoin
.
What is driving this "
highly organized
" crime ring?
If you guessed "China," you were wrong. The answer is Vietnam. The country's appetite for rhino horn is so great that it now fetches
up to $100,000/kg
, making it worth more than its weight in gold. (Horns
average around 1-3 kg each
, depending on the species.)