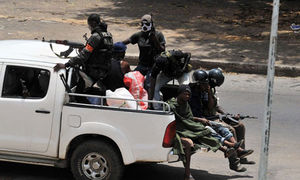 Laurent Gbagbo faces bloody overthrow as he loses general and rebels advance on main city of Abidjan
Ivory Coast's president, Laurent Gbagbo, faces being overthrown after his top general deserted him and rebel forces advanced into Abidjan, his seat of power.
Heavy weapons and machine gun fire were heard in the centre of Ivory Coast's main city. French troops were deployed as the four-month political crisis appeared to near its endgame, with the opposition claiming Gbagbo had only hours left in power.
Presidential claimant Alassane Ouattara's government ordered the closure of Ivory Coast's land, air and sea borders, Reuters said.