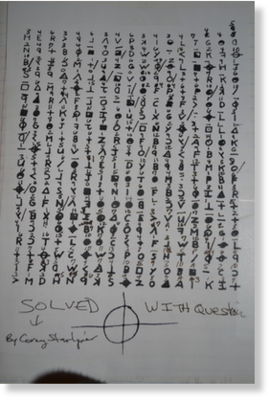 Corey Starliper believes he has solved the 41-year-old "340" cipher and has identified the legendary serial killer who terrorized northern California.
To most, the word "Zodiac" conjures up images of astrological symbols and the positions of stars. Corey Starliper, a Tewksbury, Mass. native and hobby code-cracker, thinks of a serial killer of the same name.
Starliper also thinks that he has solved a cipher devised by Zodiac that has remained unsolved for over 40 years.
Zodiac was the name taken by a murderer who operated in the Bay Area, including Napa, Solano, and Vallejo counties, in 1968 and 1969. Zodiac sent encrypted communication to area newspapers, taking credit for killings and warning of more to come, according to Robert Graysmith, who personally investigated the murders and wrote several books on the case.
Police attributed seven murders and two attempted murders to Zodiac because of information he was able to provide that was unavailable to the public, though the number of unconfirmed victims may be much higher.