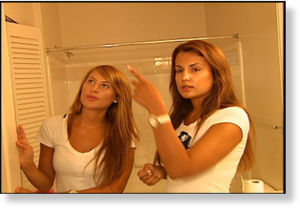 The tiny cameras were hidden in smoke detectors and motion sensors, placed in the bedrooms and bathrooms of a west Hillsborough apartment.
Late Monday, two Bulgarian women discovered the covert cameras in their apartment. And now the Bulgarian students are afraid their every move - from sleeping to showering - may have been broadcast on the Internet.
The Hillsborough County Sheriff's Office is investigating and says detectives have recovered some equipment and are following several leads.
However, between Tuesday night - when a report about the episode appeared on Bay News 9 - and Wednesday morning when detectives returned, some of the electronic equipment was removed, said sheriff's spokesman Larry McKinnon.
The women didn't answer their door Wednesday, but in an interview Tuesday with Bay News 9 said their landlord has a key to the apartment.
The Sheriff's Office declined to name any suspects.