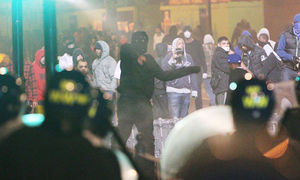 Looters use cars and shopping trolleys to carry away stolen goods as disturbances spread to other areas of Haringey
There were scenes of chaos in the early hours of Sunday morning as sustained looting spread from Tottenham to other nearby areas of Haringey.
By midnight police managed to secure a 200-metre stretch of the Tottenham High Road, scene of some of the worst rioting on Saturday night.
But as fire engines entered the street, and began putting out blazing cars and buildings, the rioters spread north and west through back-streets. To the north, at Tottenham Hale, Aldi supermarket was ransacked and set on fire. So too was a nearby carpet shop, causing a huge blaze.