Society's Child
JSOnline
YouTube
Mon, 14 Nov 2011 17:14 UTC
Republican presidential candidate Herman Cain talks to the Journal Sentinel editorial board about the Obama administration's handling of Libya.


---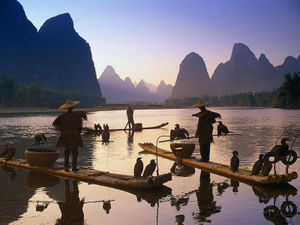 China's economy has a reputation for being strong and prosperous, but according to a well-known Chinese television personality the country's Gross Domestic Product is going in reverse.
Larry Lang, chair professor of Finance at the Chinese University of Hong Kong, said in a lecture that he didn't think was being recorded that the Chinese regime is in a serious economic crisis - on the brink of bankruptcy. In his memorable formulation: every province in China is Greece.
The restrictions Lang placed on the Oct. 22 speech in Shenyang City, in northern China's Liaoning Province, included no audio or video recording, and no media. He can be heard saying that people should not to post his speech online, or "everyone will look bad," in the audio that is now on Youtube.
In the unusual, closed-door lecture, Lang gave a frank analysis of the Chinese economy and the censorship that is placed on intellectuals and public figures. "What I'm about to say is all true. But under this system, we are not allowed to speak the truth," he said.
---
Mary Murray
MSNBC
Mon, 14 Nov 2011 15:45 UTC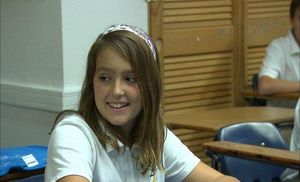 Leogane, Haiti - If there really is something called "helper's high" - that feel-good sensation that comes from extending a helping hand to others - Rachel Wheeler is soaring.
The 12-year-old Florida resident has done more to aid others than many grown-ups do in a lifetime.
Three years ago, when she was only nine, Rachel tagged along with her mother to a very adult meeting about charity work in Haiti. She listened as Robin Mahfood, from the aid agency Food For The Poor, describe children so hungry that they eat cookies made of mud, so poor that they sleep in houses made of cardboard.
At the time, Julie Wheeler wasn't even sure her young daughter understood much of what was being discussed - "until Rachel stood on a chair in front of all those adults and pledged to help Food For The Poor," Wheeler said.
Then a fourth grader, Rachel promised to raise money to build a dozen homes in Haiti.
"Rachel didn't just want to help," her mother remembers, "but she said she had to help."
Comment:
Empathy
: Empathy is being conscious of, or sensitive to, the emotions of another person or group of people.
---
Police Evict Protesters and Flatten Occupy Oakland Camp ... Mayor's Legal Adviser Resigns In Protest

Oakland police broke up the Occupy Oakland camp this morning:


In response, the mayor of Oakland's legal adviser resigned in protest.
---
Tana Ganeva
AlterNet
Thu, 10 Nov 2011 12:28 UTC
New York's Department of Homeless Services has tried to launch a new policy restricting access to shelters.
Last week the Bloomberg administration announced new eligibility rules that would make it harder for homeless people to get into city shelters, a cost-cutting measure astutely timed to coincide with the approach of winter. After a major outcry by homeless advocates and city council members including Speaker Christine Quinn, the city agreed last night to delay the measure pending a court review on December 9th.
Under the policy, originally set to go into effect next week, the city could refuse someone a bed at a shelter unless they proved they had no other housing options, such as staying with relatives or friends. Department of Homeless Services commissioner Seth Diamond claimed the new eligibility guidelines would prevent people who have alternatives to the shelter (like a princely spot on someone's floor) from filling up space reserved for the chronically homeless. Critics pointed out that redefining what counts as "homeless" and throwing bureaucratic obstacles at people in desperate financial straits is not the same thing as actually combatting homelessness.
Council member Annabel Palma and City Council Speaker Christine Quinn slammed the policy in a
joint statement
, saying it is, "cruel, risky, unacceptable, and will not reduce homelessness in the city of New York. Denying people shelter because they have found another option for some period of time is punishing people for trying to do the right thing."
---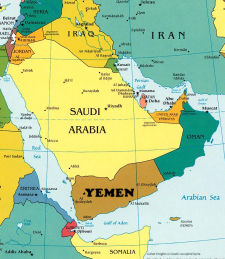 Paris - Three French aid workers held hostage by
al-Qaida
militants
in Yemen
have been freed after nearly six months in captivity, thanks to help from the sultan of Oman and a possible ransom payment, officials said Monday.
Kidnappers linked to
al-Qaida's offshoot in the region
had demanded $12 million in exchange for the three and had threatened to kill the hostages if ransom wasn't paid imminently, according to Yemeni officials.
The hostage ordeal came amid an uprising against the 30-year reign of President Ali Abdullah Saleh that has unraveled security in Yemen, the Arab world's poorest country.
Al-Qaida-linked militants
have taken control of entire towns in the country's restive south.
The aid group Triangle Generation Humanitaire said the three workers were in good health. But the circumstances of their release remained murky.

Comment: Al-Qaida once again the source of world tensions, fears and kidnappings. Isn't it strange how Al-Qaida is always at the heart of these affairs world wide? How would a government or newspaper know so much about militant links, how they operate or if they're an offshoot without 'inside' information?


---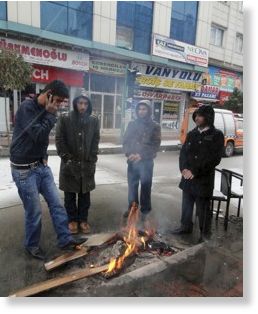 Two powerful earthquakes that struck eastern Turkey have left a city of half a million a virtual ghost town, and survivors need relief aid desperately, a local official said Monday.
A magnitude-7.2 quake last month and a magnitude-5.7 quake last week flattened some 2,000 buildings, killed 644 people and left thousands homeless in the eastern Turkish province of Van, where an unusually cold November is forcing survivors to endure even more suffering.
Very few state-owned buildings in the provincial capital, also called Van, survived the quake, provincial Gov. Munir Karaloglu told the state-run Anatolia news agency. Many residents have fled because they fear going back into their homes even if they are not damaged.
"It is a ghost city," said Karaloglu. "Almost none of the buildings are in use."
Karaloglu called on the country to show "even more mercy" in the face of mounting needs, ranging from housing to food and warm clothing.
---
MSNBC
Mon, 14 Nov 2011 10:25 UTC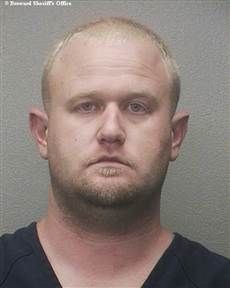 Lauderhill - A Florida police officer who allegedly shot at a fellow cop before driving off and ordering pizza on Saturday night has been identified.
Officer Kristopher John Bieger, 30,
is charged with attempted first degree murder
and discharging a firearm from a vehicle, according to Lauderhill Police Department.
The bullet missed the intended victim - a female colleague whose name is not being released.
According to the South Florida Sun Sentinel, the shooting took place by Inverry Boulevard and NW 56 Ave. in Lauderhill at about 7:30 p.m. on Saturday.
A report in the
Miami Herald
said Bieger then drove to a Publix shopping center near the corner of Griffin and Volunteer roads, where he entered Donato's Ristorante and ordered two slices of pizza.

Comment: Amazing! If your a police officer in Florida and you attempt to murder, you'll only be faced with suspension without pay. John must be loving his unpaid vacation.


---
Mary Slosson
Reuters
Sun, 13 Nov 2011 23:15 UTC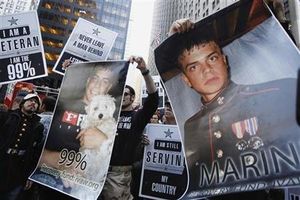 Los Angeles - Ex-Marine Scott Olsen, whose injury during clashes between Oakland police and demonstrators gave impetus to anti-Wall Street protests, said on Sunday he is "feeling a lot better" in his first public statement since his injury.
In a message posted to social networking site Google Plus, 24-year-old Olsen thanked those who had been tracking his progress for their outpouring of support.
"I'm feeling a lot better, with a long road in front of me," Olsen wrote. "After my freedom of speech was quite literally taken from me, my speech is coming back but I've got a lot of work to do with rehab."
The post is accompanied by a photo of Olsen, smiling with a neck brace on and a visible scar on his forehead.
"Thank you for all of your support, it has meant the world to me," he continued. "You'll be hearing more from me in the near future and soon enough we'll see you in our streets!"
---
---