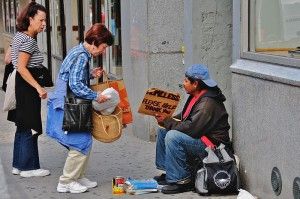 According to the U.S. Census Bureau, a higher percentage of Americans is living in extreme poverty than they have ever measured before. In 2010, we were told that the economy was recovering, but the truth is that the number of the "very poor" soared to heights never seen previously. Back in 1993 and back in 2009, the rate of extreme poverty was just over 6 percent, and that represented the worst numbers on record. But in 2010, the rate of extreme poverty hit a whopping 6.7 percent. That means that one out of every 15 Americans is now considered to be "very poor". For many people, this is all very confusing because their guts are telling them that things are getting worse and yet the mainstream media keeps telling them that everything is just fine. Hopefully this article will help people realize that the plight of the poorest of the poor continues to deteriorate all across the United States. In addition, hopefully this article will inspire many of you to lend a hand to those that are truly in need.
Tonight, there are more than 20 million Americans that are living in extreme poverty. This number increases a little bit more every single day. The following statistics that were mentioned in an article
in The Daily Mail
should be very sobering for all of us....