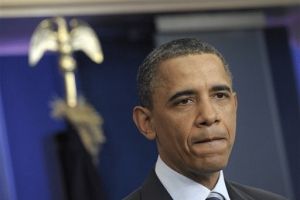 The wrong medicine: GDP growth slows to a crawl, in part because of cutbacks in government spending
So it turns out that Americans had a pretty good reason for thinking that the country is headed in the wrong direction: As judged in terms of GDP growth,
they're right
! The Bureau of Economic Analysis released its preliminary estimate of first-quarter GDP growth on Thursday: a universally disappointing 1.8 percent.
The number was not unexpected and doesn't automatically imply another recession is around the corner. In his press conference yesterday, Federal Reserve chairman Ben Bernanke blamed the slowdown on "transitory factors" -- high gas prices, bad weather and an unexpected slump in defense spending. Most analysts seem to think economic growth began to accelerate again in March; one dismissed the first-quarter numbers as merely a "stutter."
But many of those same analysts think that the labor market is strengthening, and today's new jobless claim numbers -- a big jump up to 429,000, pushing the four-week moving average up above 400,000 for the first time in a couple of months -- may throw some doubt on assumption.