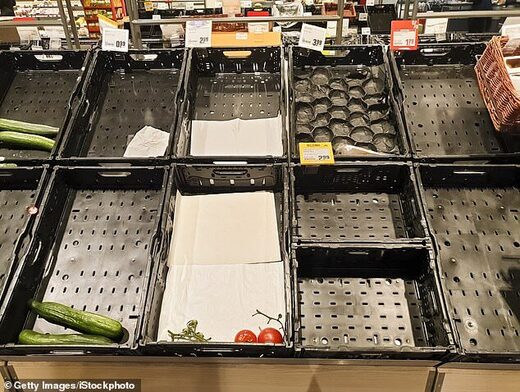 Salad staples including cucumbers, peppers and tomatoes could soon be in short supply as farmers warn they are being paid too little to grow them.
A combination of
soaring energy costs and a lack of people to pick crops
continues to affect Britain's vegetable industry, with many retailers having to import from abroad.

Comment: They don't have to import from abroad, as a farmer recently highlighted over the egg 'shortage', there's currently sufficient produce, big business just refuses to pay for it when it can import it and make more profit.


Tomatoes in particular have been badly affected due to the rising cost of using heated greenhouses.
And the 'cucumber capital of Britain', Lea Valley - which stretches from
Hertfordshire and Essex to north
London
and produced around 75 per cent of Britain's cucumbers and peppers in 2020 - could see production at half its 2020 level by next year
.