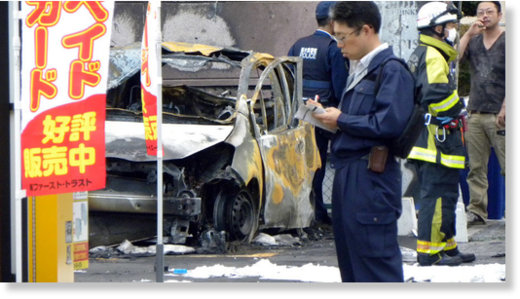 At least two nearly simultaneous blasts rocked the Japanese city of Utsunomiy north of Tokyo on Sunday. One was caused by an elderly man who blew himself up in an apparent suicide, injuring three people in a park where a festival was underway in the process.
A camera at NHK broadcaster's Utsunomiya station recorded the sound of several explosions taking place one after another at around 11:30am local time. An aerial shot from an NHK helicopter shows two burned cars parked next to each other in the parking lot, one of which belonged to the 72-year-old retired soldier. Police say they discovered a suicide note written by the man.
Kyodo
news agency said his burned body was found in Utsunomiya Joshi Park after police received a call reporting that a person had been engulfed in flames following the sound of a blast.
A note found in the badly burned victim's clothing included the name of the former Self Defense Forces officer,
NHK
said, adding that his house, had burned to the ground earlier on Sunday.