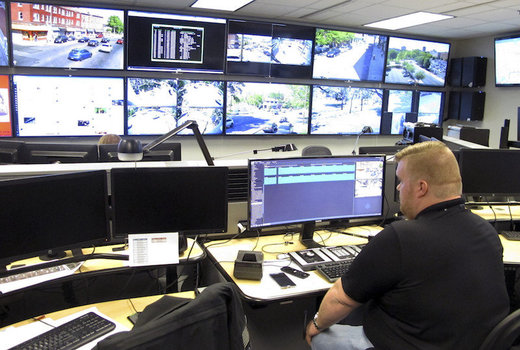 Comment:
Surveillance has become so common place, people aren't even disturbed by it anymore. The media spin the idea as a positive step forward, a better way to protect and serve the citizens. 'Big brother' is spending millions of dollars keeping tabs on the U.S. populace for a reason. A fascist state draws power from mass surveillance with the predictable result of discouraging dissent, creating a more submissive population.
Not just surveillance - Orwell's 1984 is an instruction manual for the state
Michelle Plante scoured a surveillance video for clues, trying to identify the man seen shooting at someone in a Hartford playground recently in broad daylight. Luckily, no children were there, and the man fled into a nearby house after missing his target.
Plante, who works in the new Real-Time Crime and Data Intelligence Center for Hartford police, determined the address of the house and who lived there. She ran names through databases, hoping to determine the name of the shooter.
Similar work is going on across the country at police real-time crime centers, where walls of flat-screen monitors are fed by surveillance cameras, and computers take in data from shotgun detection systems and license plate readers. Intelligence from the centers is sent to officers on the street, helping them find suspects and avoid harm by having crucial, real-time information, police officials say.
In Hartford, Plante quickly found a booking photo of one of the residents of the house who looked like the shooter. That information gave police a major lead they may not have had otherwise. Authorities say they are now building a case against the man.
New York City opened its Real Time Crime Center - the first of its kind - in 2005, and other large cities followed suit. Smaller cities are now opening their own centers after acquiring surveillance cameras, gunshot detectors and other technology. Civil liberties advocates, meanwhile, have privacy concerns and are calling for better regulation of police surveillance operations.