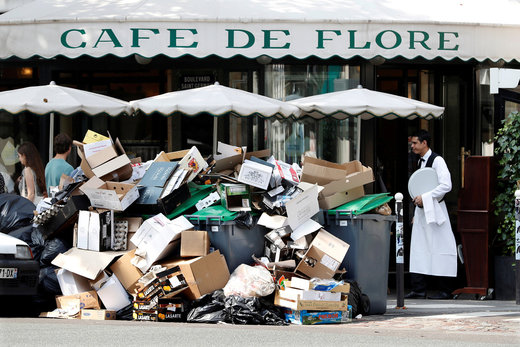 Comment:
This article is interesting, not so much for the content, but for the source. The "
Gatestone Institute
" is a US think tank "dedicated to educating the public about what the mainstream media fails to report in promoting". Its board of governors and advisors include notables such as John Bolton and Alan Dershowitz, two people who have done much to destroy the physical and social fabric of many countries, including the USA.
One would almost think that this gaggle of think-tankers are hyping and distorting the reality of the social conditions in France in an effort to create that very reality. After all, according to people like Bolton, there's nothing like a bit of 'creative destruction' in the form of a manipulated 'revolution' to 'open up' a country to allow the political and corporate global elite (like Bolton) to plunder its resources.
France will elect a new president in May 2017. Politicians are already campaigning and debating about deficits, welfare recipients, GDP growth, and so on, but
they look like puppets disconnected from the real country.
What is reality in France today?
Violence. It is spreading. Not just terrorist attacks; pure gang violence.
It instills a growing feeling of insecurity in hospitals, at schools, in the streets -- even in the police. The media does not dare to say that this violence is coming mainly from Muslim gangs -- "youths," as they call them in the French media, to avoid naming who they are.
A climate of civil war, however, is spreading visibly in the police, schools, hospitals and politics.
The Police
The most jolting evidence of this malaise was to see more than 500 French police officers
demonstrating
with police cars and motorcycles on the night of October 17, without the backing of labor unions, without authorization, on the Champs Elysées in Paris.
According
to the daily,
Le Figaro
, "the Interior Ministry was in panic," frightened by a possible coup: "Police blocked access to the Avenue Marigny, which runs beside the Presidential Palace and overlooks the Place Beauvau."