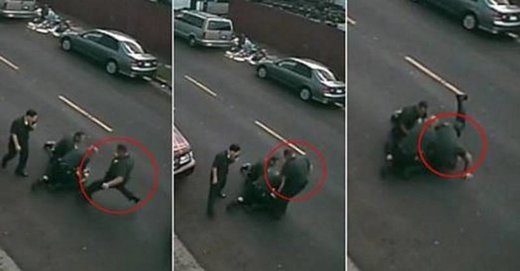 Clinton Alford Jr. had done nothing wrong as he was riding his bike one afternoon, when out of the blue he was attacked by a gang of men. When one of the men grabbed his bicycle, Alford became frightened and took off running. These men proceeded to throw Alford to the ground and place him in cuffs. These men were LAPD cops and they incorrectly thought he stole the bike he was riding.
According to Alford, they never identified themselves as police.
However, being assaulted by cops who mistook him for a bike thief was only the beginning. When officer Richard Garcia saw the officers on top of Alford, who was handcuffed, he felt it necessary to run up to the restrained man, kick him in the face, and then punch and elbow him.
For more than two minutes, Garcia would continue his assault on this unarmed and entirely restrained man. He only stopped when four of his fellow officers came over to pick up the battered and handcuffed Alford.
Alford was not the man police were looking for either.
This incident happened in October of 2014 and the video was kept from the public, in spite of it being repeatedly cited by police and prosecutors as the city pressed charged against Garcia for assault.
"I was just praying that they wouldn't kill me. I just closed my eyes and tried to hold on," Alford told the
LA Times
in 2014.