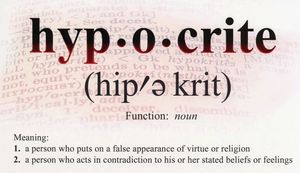 In a recent column, "The Stench of American Hypocrisy," I noted that US public officials and media are on their high horse about the rule of law in Burma while the rule of law collapses unremarked in the US. Americans enjoy beating up other peoples for American sins. Indeed, hypocrisy has become the defining characteristic of the United States.
Hypocrisy in America is now so commonplace it is no longer noticed. Consider the pro-football star Michael Vick. In a recent game Vick scored 6 touchdowns, totally dominating the playing field. His performance brought new heights of adulation, causing National Public Radio to wonder if the sports public shouldn't retain a tougher attitude toward a dog torturer who spent 1.5 years in prison for holding dog fights.
I certainly do not approve of mistreating animals.
But where is the outrage over the US government's torture of people? How can the government put a person in jail for torturing dogs but turn a blind eye to members of the government who tortured people?
Under both US and international law, torture of humans is a crime,
but the federal judiciary turns a blind eye and even allows false confessions extracted by torture to be used in courts or military tribunals to send tortured people to more years in prison based on nothing but their coerced self-incrimination.
Compare Vick's treatment of dogs with, for example, the US government's treatment of Canadian "child soldier" Omar Khadr. Khadr was 15 when he was captured in Afghanistan in 2002, the only survivor of a firefight and an air strike on a Taliban position. He was near death, with wounds to his eyes and shoulder and shot twice in the back. The Americans accused the boy of having thrown a hand grenade during the military encounter that resulted in the death of a US soldier.