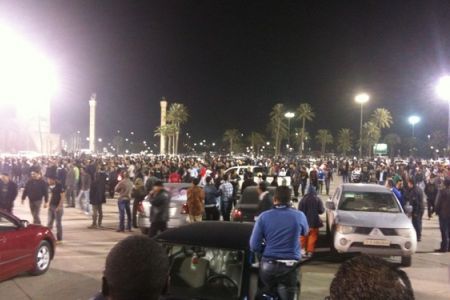 At least 84 protesters have lost their lives and hundreds wounded in Libya in three days of pro-democracy protests in the African country, Human Rights Watch (HRW) says.
According to HRW, security forces killed 20 people in the eastern city of Benghazi, 23 in the eastern Libyan town of al-Baida, three in Ajdabiya, and three in Derna in a matter of days, Reuters reported.
In addition, 35 people lost their lives in Benghazi on Friday, nearly all with live ammunition, said the Human Rights Watch, adding that it has compiled the figures based upon telephone interviews with hospital staffers and witnesses.
It also hit out at the crackdown on protesters in Libya, saying "The Libyan authorities should immediately end attacks on peaceful protesters and protect them from assault by pro-government armed groups."
Anti-government protests sparked by the popular revolutions that deposed long-serving rulers of neighboring Egypt and Tunisia have engulfed Libya this week with thousands of people flocking the streets of the eastern city of Benghazi, and calling for the ouster of Libyan leader Muammar Gaddafi, who has been in office since September 1969.