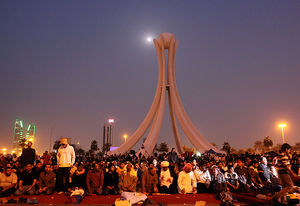 Talk of revolution in the normally placid Gulf comes down to the opinion and emotions of solidly middle-class Mohamed Ali, 31, a manager in a financial institution in the Bahraini capital of Manama. "We feel that our country is not belonging to us. We gave the government 10 years to resolve these issues," he says. "But what we got only promises."
Ali speaks for many of the thousands who, on Wednesday, were protesting for the third straight day in Manama's Lulu Roundabout, a busy city intersection now turned would-be Tahrir Square. Feeling disenfranchised from their own country Ali and his wife, have joined the ranks of protesters. Says he, "There is no equal opportunity."
Shi'a Bahrainis like Ali form a majority in the Gulf island, which has been ruled for 40 years by a Sunni minority. The Shi'a feel that the best jobs, the best opportunities are reserved for Sunnis and that they are placed behind Sunnis from other countries who get preference above Bahrainis. Since Feb. 14, protesters have converged at Lulu, calling for the removal of the Bahraini prime minister, Sheikh Khanifa bin Salman al-Khalifa, who has been in office - unelected - since 1971. By Wednesday, tweets reported that the protest tents were getting bigger and included more families. "Speeches varied," one poster wrote, "from thoughtful to fiery."