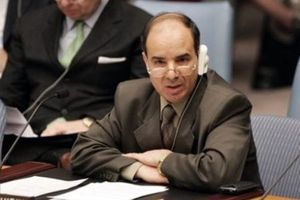 The Libyan deputy ambassador to the UN says Libya's ruler Muammar Gaddafi's statements are a signal for his minions to start genocide against Libyan people.
"I have received information today, that after the statement by Col. Gaddafi today, the attack on people has started in the western parts of Libya. I hope the information I get is not accurate, but if it's right, it will be a real genocide," Ibrahim Dabbashi told reporters on Tuesday.
Dabbashi also called on the prosecutor of the International Criminal Court (ICC), Luis Moreno-Ocampo, to investigate what he described as genocide and crimes against humanity committed by Gaddafi during the ongoing unrest in the country.
"And also we are calling on the prosecutor of the International Criminal Court to start investigating the genocide, crimes against humanity and crimes of war committed by Gaddafi against his people," the Libyan diplomat added.
Referring to the UN Security Council's Tuesday statement that called on the Libyan government to stop the violence against its people, Dabbashi said he had hoped for a stronger message from the international community.