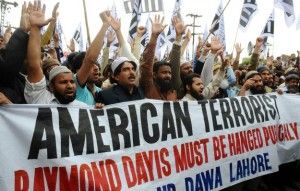 Davis case has thrown overboard America's rules on terrorism
As per Paul Craig Robert, hypocrisy in America is now so commonplace it is no longer noticed. While it enjoys torturing other peoples for American sins, it objects to human rights abuses of countries it despises such as Burma, Pakistan, Iran, Syria. In USA if a person tortures a dog he is sent to jail, but a government functionary indulging in torture against fellow beings is ignored.
The US has destroyed two Muslim countries and acutely lacerated the third Muslim country under the plea of curbing terrorism and making the world peaceful but its own track record shows that it is the leading terrorist state. It not only indulges in state terrorism but also foments terrorism through clandestine black operations in other countries. While the US has put the entire Muslim world on the chopping block, it considers its own executioners above law.
Hypocrisy and double standards of the US came in full spotlight when one of leading CIA's agent Raymond Allen Davis, a former green beret working for State Department, was arrested by Lahore police after he shot dead two motorcyclists Faheem and Faizan with his 9mm semi-automatic Glock pistol in broad daylight on 27 January. 47 eye-witnesses recorded their statements saying that they saw Davis continuing to shoot at the two after they had turned to flee. Both were repeatedly hit in the back; hence question of self-defence didn't arise. Davis stated that he shot them not because they had menaced him with guns but because he believed that they were armed.