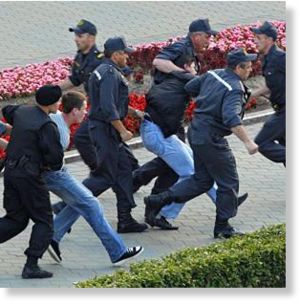 Six months after protests against fraudulent elections led to a brutal crackdown against Belarus' political opposition, Belarusians are coming out to protest again - this time against the nation's economic collapse.
This is a protest Belarus-style. The loudest voices are those of the police, telling people to disperse.
Protesters do not chant slogans. They do not carry signs. They do not wear political T-shirts or buttons. They just walk on the sidewalks, mingle and chat on a summer evening.
But that apparently was too much for the government of Belarus - on edge after a 50-percent devaluation of the Belarusian ruble in recent weeks.
To break up what is now a weekly protest, police in Minsk detained scores of people Wednesday night, including Oleg Gruzdilovich, a correspondent for Radio Free Europe/Radio Liberty.
The arrests came after President Alexander Lukashenko, the long-running dictator of Belarus, threatened to fire his interior minister if another protest took place against his government. In a rambling, five-hour press conference, the president denounced social networks and threatened to shut down the Internet.