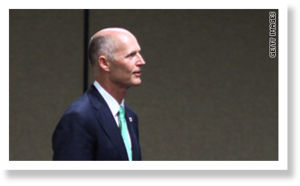 A controversial law requiring adults applying for welfare assistance to undergo drug screening has gone into effect in Florida.
Saying it is "unfair for Florida taxpayers to subsidize drug addiction," Gov. Rick Scott signed the legislation in June.
"It's the right thing for taxpayers," Scott said after signing the measure. "It's the right thing for citizens of this state that need public assistance. We don't want to waste tax dollars. And also, we want to give people an incentive to not use drugs."
Under the law, which went into effect on Friday, the Florida Department of Children and Family Services will be required to conduct the drug tests on adults applying to the federal Temporary Assistance for Needy Families program.
The aid recipients would be responsible for the cost of the screening, which they would recoup in their assistance if they qualify.