Society's Child
108morris108
YouTube
Mon, 04 Jul 2011 16:18 UTC

Comment: So, remind us again, why did the UN sanction bombing Libya?


---
"They call it 'The American Dream', because you have to be asleep to believe it" - George Carlin


---
Frank Donnelly
Silive
Sun, 03 Jul 2011 03:04 UTC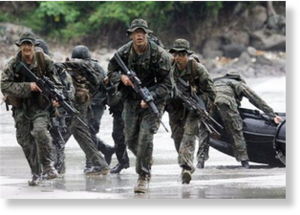 New Brighton natives Duane Robert Liburd Jr. and Hamson R. Daniels McPherson never knew each other.
But the two young men wound up in the same place a half-world away -- as U.S. Marines stationed on the Japanese island of Okinawa.
And in a tragic coincidence, Liburd, 22, and Daniels McPherson, 21, both met their deaths on that Pacific island under mysterious circumstances about two months ago and within weeks of each other.
Liburd's family was told he drowned on May 14, while swimming off a beach near his barracks.
Daniels McPherson's father said the Marine Corps told him the former defensive end for the Curtis High School football team doused himself with gasoline on May 1 and set himself ablaze.
He died 19 days later in a burn unit in San Antonio, Texas, where he had been transferred.
The Marine Corps' explanation of how their sons died have left the two men's kin with far more questions than answers.
---
Lucy Craft
CBS
Mon, 04 Jul 2011 14:35 UTC
Many senior citizens take up volunteer work after retirement. But in Japan, a new civic group has formed, with a particularly urgent and hazardous mission -- senior citizens offering to take the place of younger workers at the crippled Fukushima Dai-ichi nuclear plant.



CBS News correspondent Lucy Craft recently spoke with members of the "skilled Veterans Corps," made up of former professionals who are signing up for duty at the facility.

For seniors like Michio Itoh, who supervises a shop for the handicapped, replacing the younger men at Fukushima Dai-ichi felt like a moral obligation.
---
Libertarians Call On Florida Sheriffs To Arrest TSA Agents

Palm Harbor, Florida - In a strongly-worded email sent today to all of Florida's 67 county sheriffs, the Libertarian Party of Florida demanded the arrest of TSA agents for violations of the U.S. and Florida Constitutions, and accused TSA agents of committing sexual battery. The letter reads as follows:

Dear Sheriff,

On this day in 1776, our forebears founded this Nation by declaring their independence from an oppressive government. This beautiful and timeless document expressed the self-evident truth that all people have certain inalienable rights, upon which no government can infringe. They asserted that governments are formed among men to secure these rights, not to impede or restrict them.

The Libertarian Party of Florida is reaching out to you, and to all of Florida's 67 Constitutional Sheriffs. We, The People of the State of Florida must turn to you as our last line of defense against a federal government that is usurping authority and ignoring the rule of law.
---
Richard Allen Greene
CNN
Mon, 04 Jul 2011 13:16 UTC
FoxNews.com alerted the Secret Service on Monday about the apparent hacking of its Twitter feed for political news, after the feed was used to falsely report that President Obama was killed.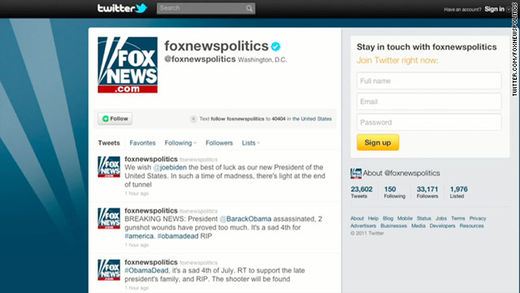 Jeff Misenti, Fox News Digital's vice president and general manager, said in a statement that the website has also requested "a detailed investigation from Twitter about how this occurred, and measures to prevent future unauthorized access into FoxNews.com accounts."
The site took down the false tweets after several were there for hours.
---
Scott Rubin
Benzinga
Fri, 01 Jul 2011 12:46 UTC
The case against former IMF chief and once likely leading French Presidential candidate Dominique Strauss-Kahn appears to be falling apart on Friday. Investigators working for the prosecution are now saying that they have uncovered serious holes in the credibility of the accuser in the case. According to high placed sources, prosecutors now do not believe much of the woman's story, although there is unambiguous evidence that a sexual encounter between Strauss-Kahn and the Sofitel housekeeper did occur. According to one law enforcement source cited by the New York Times, the accuser has repeatedly lied since accusing the former IMF chief of attacking her in his hotel room on May 14.

The alleged victim in this case, who was originally described as a hard-working, unassuming Guinean immigrant, appears to be a bit more mysterious than was originally reported. For example, there now appear to be possible links between her and people involved in criminal activities which include drug dealing and money laundering.
---
Kim Willsher
Guardian
Mon, 04 Jul 2011 11:07 UTC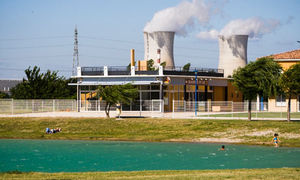 Blast at EDF's Tricastin power station in Drôme comes days after nuclear authorities found 32 safety concerns at plant
An explosion sparked a fire at a French nuclear power station on Saturday, just two days after the authorities found 32 safety concerns at the plant.
The blaze at the Tricastin plant in Drôme in the Rhône valley sent a thick cloud of black smoke into the sky. A mistral wind sent it south over a nearby motorway on one of the busiest travel days of the year as the French left for their summer holidays.
EDF, which runs the power station, said the incident took place in an electric transformer situated in the non-nuclear part of the plant and had not resulted in any radiation leak or any other contamination. A statement issued by the energy giant raised further concerns as it omitted to mention the explosion - only a fire - and did not give the cause of the blaze.
"This event happened in the non-nuclear part of the installation and had no radiological consequence on the environment and the population. The fire brigade was immediately called and the fire was rapidly brought under control. Nobody was hurt," it said.
---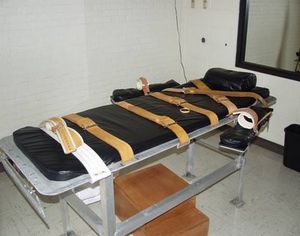 Thirty-five years ago, on July 2, 1976, on the eve of massive bicentennial celebrations, the U.S. Supreme Court in
Gregg v. Georgia
voted 7-2 to re-instate capital punishment. There had been no executions in the U.S. since 1967.
The U.S. could have been a leader in the subsequent worldwide trend toward death penalty abolition; instead the U.S. has become an
outlier
along with a minority of other countries (like China, Iran, and Saudi Arabia) that still kill prisoners.
What might have been?
Three of those 7 justices (Stevens, Blackmun and Powell) have since
regretted
their vote in
Gregg
, meaning that if there could be some sort of time-travel Stevens, Blackmun and Powell's Excellent Adventure do-over, the death penalty might have never come back.
But, as with executing likely
innocent people
, you can't go back in time to undo your mistakes. The death penalty did come back.
---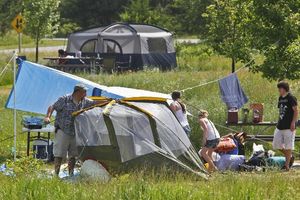 In just a few days, Minnesota could be out millions of dollars.
With the shutdown of state parks, Minnesotans are flocking to Wisconsin state parks to camp and cool off in park waters. Willow River State Park northeast of Hudson is an easy drive from the Twin Cities and rewards the traveler with beaches, campgrounds and waterfalls. Willow River State Park campground is filled to capacity this holiday weekend largely due to Minnesotans crossing over the border due to the government shutdown.
Minnesota stands to lose millions of dollars in revenue and get saddled with millions more in new expenses for every week that the widespread shutdown of state government persists.
In both subtle and stark ways, the shutdown that began Friday will bring new financial pain to the state treasury. Closing many operations will save the state some money, but an array of revenue sources as diverse as the lottery and highway toll lanes have been cut off.
---