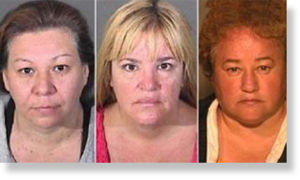 Approximately $14 million was collected during the scheme which involved more than 40 victims
Three mothers who were on the PTA at Diamond Bar elementary are accused of stealing millions of dollars from dozens of victims in an elaborate Ponzi scheme.
Two of the suspects, 41-year-old Maricela Barajas (aka Maricela Torres) and 50-year-old Juliana Menefee were arrested Tuesday at their homes in Diamond Bar.
The third suspect, 51-year-old Eva Perez, is currently behind bars, serving an 11-year sentence at the Central California Women's Facility on prior felony grand theft charges.
They were charged on Wednesday with 22 criminal counts each of grand theft of personal property and securities fraud, according to the Los Angeles County district attorney's office.
If convicted on all counts, the women could get up to 13 years in state prison.