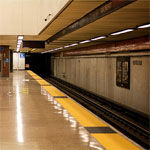 Bright idea, poor timing? Or just bad idea?
Pundits are panning leaders of San Francisco's Bay Area Rapid Transit (BART) subway system for the actions they took to stifle potential station protests this past Thursday. According to officials, underground cellular service at select BART stations was turned off from around 4 pm to 7 pm that day in an attempt to prevent protest organizers from communicating and organizing via mobile devices.
Although critics contend that the move evokes thoughts of Egyptian dictator Hosni Mubarak, when government-mandated cellular disruptions were used to try and prevent Egyptian protesters from organizing in a similar fashion this past January, BART officials maintain that the shutdown was intended to keep its service running and subway riders safe.