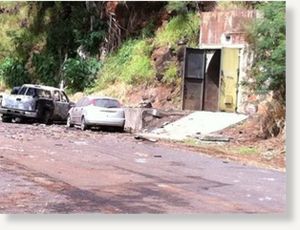 A bomb squad recovered the bodies of two more people Saturday who had been missing after a fireworks storage bunker blast in Hawaii, bringing the death toll to five, officials said.
The blast near the Waikele Business Center at a former military bunker where fireworks were warehoused occurred Friday, killing three people and leaving two the others missing.
The bodies of the two missing men were found Saturday, Honolulu Fire Department Capt. Gary Lum told The Associated Press.
Officials said the bunker burned throughout the day Friday and had been too hot and unstable to enter.
A police robot searched the facility Saturday to see whether explosions had stopped and whether the temperature had dropped low enough for rescuers to risk going in, Lum said.
"It wasn't as hot as yesterday but it was still warm. The bomb team went in ... in protective equipment and they were able to retrieve one victim at a time," he said.