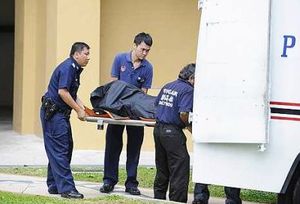 In recent days, parts of this law-and-order city, whose murder rate ranks as low as Japan's, resembled scenes from the American TV series Crime Scene Investigation.
Against its staid nature, seven gruesome bodies have been found in various parts of the island since July 1, unrelated to each other - at a rate of one a day.
In fact, the grisly spate had begun earlier, from around mid-April when a decomposed body was found in a luggage bag at the casino resort of Sentosa.
A month later, an Indonesian maid's body was discovered submerged in a rooftop tank that supplies drinking water to nearly 200 residents at Woodlands. Her Bangladeshi boyfriend had been arrested.
Since then a total of 13 bodies have turned up, prompting shocked citizens to ask: "What has become of Singapore?"
Police investigators and pathologists - as well as sociologists - are working overtime to probe this epidemic of corpses. Most were believed to be murder or suicide victims.
Until a clear picture emerges, people are blaming it on the rapid intake of foreigners, as well as the presence of two casinos, or possibly both.
As a result, the second most densely-populated city in the world (next to Monaco) is now also poised to overtake Las Vegas as the second largest gaming destination as well.
These two factors have pushed economic growth sky-high but few ordinary citizens are celebrating.
Families are extremely concerned about the social impact they may bring - including crime, family stress and suicides.