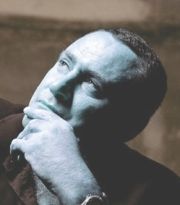 Gilad Atzmon is an outstandingly charming man. He is often described by music critics as one of the finest contemporary jazz saxophonists. But Atzmon is more than just a musician: for those who follow events in the Middle East, he is considered to be one of the most credible voices amongst Israeli opponents. In the last decade he has relentlessly exposed and denounced barbarian Israeli policies. Just before his departure on a European Spring Tour, "The Tide Has Changed ", with his band the Orient House Ensemble, he spoke to Silvia Cattori.
Silvia Cattori:
As a jazz musician, what brought you to use your pen as a weapon against the country where you were born and against your people?
Gilad Atzmon:
For many years my music and writings were not integrated at all. I became a musician when I was seventeen and I took it up as a profession when I was twenty four. Though I was not involved with, or interested in politics when I lived in Israel, I was very much against Israel's imperial wars. I identified somehow with the left, but later, when I started to grasp what the Israeli left was all about, I could not find myself in agreement with anything it claimed to believe in, and that is when I realised the crime that was taking place in Palestine.