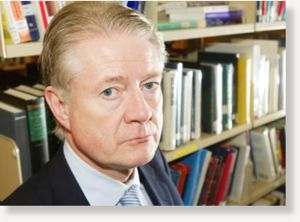 In Ralph and Colleen Klein's cosy Lakeview living room, sadness and tears mingle with occasional laughter as Colleen finally tells the full story of the ex-premier's failing health.
Colleen does almost all the talking, because Ralph can't. The quickest tongue in Canadian politics is being silenced by a progressive form of dementia.
After months of uncertainty - and long delays in seeing specialists - the Kleins learned last Friday that Ralph, 68, suffers from what's called "frontal temporal dementia, consistent with primary progressive aphasia."
To the oddly vacant man sitting beside me, that means extreme difficulty in recalling and comprehending words, as well as reading and writing. His speech, once fluid and lightning-fast, is now limited to short words and set phrases.
"Good, good," he says several times, when asked how he's doing.
Soon he announces "I'm going to work out," and heads off to the gym in a cab already ordered by Colleen. On doctor's orders, she has taken away his car keys.
To anyone who's known Klein, either as target or fan of his wit, a vital piece of him seems to be missing. The native intelligence still flickers in his eyes, but somehow it can't emerge.