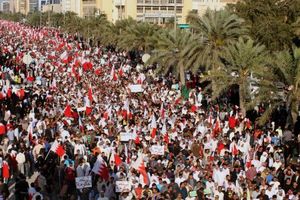 Thousands of demonstrators form an enormous 'human chain' around the capital Manama as protests continue against the rule of the monarchy.
Protesters joined hands to encircle the capital as the nation enters its third week of protests,
The Daily Express
reported.
No police presence was reported during the peaceful demonstration. Organizers reported that some of the Sunnis, which constitute a minority in Bahrain, joined Saturday's event.
Protesters have accused the government of discriminatory policies and political persecution.
Friday saw an estimated 100,000 demonstrators in the capital's financial district following the Friday Prayers. Protesters then marched towards Pearl Square, the epicenter of the movement demanding the government to step down.