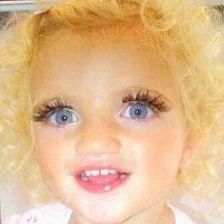 Retail giant Walmart has added a new range of anti-aging make-up to its shelves - aimed at young children.
The new 'Geo-Girl' beauty line is said to be aimed at the 'tween' market of 8-12 year olds, and will include blusher, mascara, face shimmer and lipstick that is 'mother approved', as well as anti aging products.
According to the marketing team behind the line the formulas are designed for 'young skin' and contain natural ingredients like white willow bark, chamomile, lavender and calendula, as well as anti-oxidants which are said to prevent aging.
Joel Carden, executive vice president of Pacific World, the brand's manufacturer, says the line is designed for young children who want to use 'real cosmetics, but with natural ingredients.'