Citizen journalists defy threats of violence to replace harassed local reporters and banned foreign media with web technology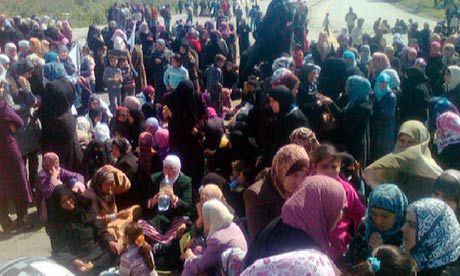 He's got sim cards and pseudonyms, cigarettes and light fingers that dance across the touchpad in a mad ballet of digital information sharing. "Now I'm receiving reports of four people killed in Deraa. They opened fire there now," says Rami Nakhle.
Staring down at his laptop, Nakhle reconnects, for the eighth time that afternoon, a Skype call to a protester in Banias, a port on Syria's western Mediterranean coast. "Now I will tell demonstrators in Banias there are four killed in Deraa," he says, sucking back on a cigarette.
On the laptop screen is the pixelated image of a man holding an olive branch in one hand and a mobile phone in the other, which he is using as a video camera to stream, via the social media programme Qik, live images of tens of thousands of protesters in Banias directly into Nakhle's laptop, ready for uploading to YouTube.
Over a faltering digital connection, Nakhle tells his colleague in Banias about the deaths in Deraa. The message is relayed to a protester with a megaphone, who broadcasts it to the masses. Ten minutes later the reaction comes in: "OK, now we can hear chanting in Banias, 'With our souls, with our blood, we sacrifice to you Deraa.' And they are in Banias, a different side of the country!"
Among unprecedented and growing protests against the 41-year dictatorship of the Assad family over Syria, social media mavens such as Nakhle are emerging as the thread that binds disparate protests together. Foreign media have been all but barred from reporting from Syria and dozens of local and Arab journalists have been arrested or expelled. In their place, Syria's cyber activists are using social media and technology to ensure reporting gets out, linking the protesters on the street with the eyes and ears of the world.