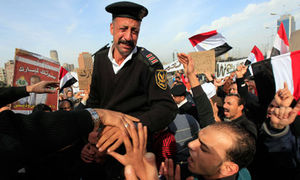 Four reporters set upon as hundreds of pro-government supporters launch resistance against protests
Supporters of Egyptian president Hosni Mubarak beat up several journalists after going on the offensive today.
Anderson Cooper from CNN, two Associated Press correspondents and a Belgian reporter were all set upon as hundreds of young pro-government supporters attacked crowds demanding Mubarak's immediate resignation.
Cooper said he and his crew came under attack, but CNN said no one was seriously hurt. Two Associated Press correspondents and several other journalists were roughed up during gatherings of Mubarak supporters.
In what appeared to be the most serious incident, a Belgian correspondent who reports for newspapers in Brussels, northern France and Geneva, was beaten, detained and accused of spying.
Maurice Sarfatti, who uses the byline Dumont, was covering a pro-Mubarak demonstration in the Cairo district of Shoubra when he said he was hit.