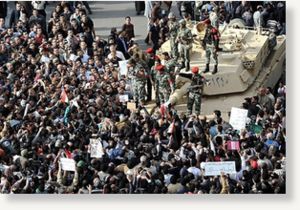 Egyptian opposition leader Mohamed ElBaradei told thousands of protesters in central Cairo on Sunday that an uprising against Hosni Mubarak's rule "cannot go back."
ElBaradei, a Nobel peace laureate and retired international diplomat, said earlier he had been given a mandate to make contact with the army and build a new government in Egypt.
"I bow to the people of Egypt in respect. I ask of you patience, change is coming in the next few days," he said.