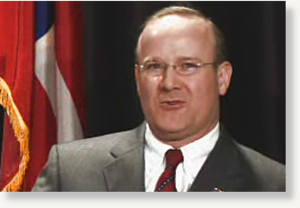 If you thought last year's proposed bill in Utah to
criminalize miscarriages
was bad, just look at what they're trying to do in Georgia.
Via
Mother Jones
:
There's a new bill on the block that may have reached the apex (I hope) of woman-hating craziness. Georgia State Rep. Bobby Franklin - who last year proposed making rape and domestic violence "victims" into "accusers" - has introduced a 10-page bill that would criminalize miscarriages and make abortion in Georgia completely illegal. Both miscarriages and abortions would be potentially punishable by death: any "prenatal murder" in the words of the bill, including "human involvement" in a miscarriage, would be a felony and carry a penalty of life in prison or death. Basically, it's everything an "pro-life" activist could want aside from making all women who've had abortions wear big red "A"s on their chests.

...

Under Rep. Franklin's bill, HB 1, women who miscarry could become felons if they cannot prove that there was "no human involvement whatsoever in the causation" of their miscarriage.