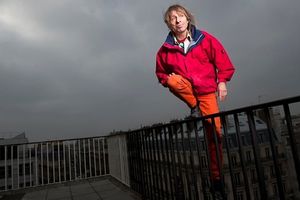 After scaling the Eiffel Tower in Paris and Sydney Opera House, the "French Spiderman" now has his sights set on the world's tallest tower, Burj Khalifa in the cosmopolitan Gulf emirate of Dubai.
Alain Robert, 48, is due Monday to climb the exterior of the skyscraper which stands 828-metres (2,717-feet) tall, as part of an "Education Without Borders" conference for which it is being used as a venue, organisers said.
The climber, whose nickname comes from wearing the outfit of the fictional superhero while scaling the tallest of the tall around the globe, usually works without a safety harness, relying on bare hands and sturdy footing.
In Dubai, however, he will resort to a rope and harness, organisers said.