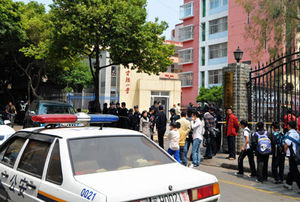 A middle-aged man has stabbed eight children to death and injured at least five others at a primary school in south-eastern China.
The suspect attacked the children with a knife at the gate to a primary school in Fujian's Nan-ping city at 7:20 a.m. as the children were waiting to go to school.
According to officials, the suspected attacker, Zheng Mingsheng, a 41-year-old, is a former community clinic doctor who had been dismissed from his post and allegedly had mental problems.
Three children died at the scene, while five others died later during emergency treatment. The victims were reported to be mostly first-graders.