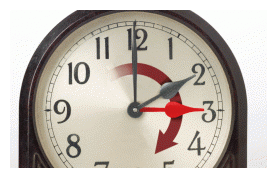 Come 2am on Sunday, March 11, daylight saving kicks into effect. Clocks spring forward one hour to 3am, which means grumpy mornings for everyone since we get one hour of precious sleep taken away from us.
Every year around this time, the debate as to whether or not daylight saving is a good thing gets revived. (Not so much in November since we get an extra hour of sleep then.)
Most of us are familiar with the history of "spring forward, fall back." In the US, DST was first observed in 1918, starting March 31, when the Standard Time Act was established. Since then, there have been numerous changes and adjustments to the duration and scope of DST.
The most recent change came in 2007, when DST was moved to the second Sunday of March. Previously, we only sprung forward on the first Sunday of April. Of course, if you're in the two states that do not observe DST -- Hawaii (because there isn't a large variation in daylight length all year around) and Arizona (because it gets too hot in the summer, so it's better for residents to have more cool hours in the night) -- then you have no clock adjustments to worry about.
One of the biggest reasons advocates of DST put forth for keeping the tradition is that doing so helps America save energy. The logic goes that more people are up at 5pm than at 6am, so a great deal more oil, electricity and energy are used when it's dark out in the evening. Thus, lengthening the amount of daylight in the evening would help significantly cut down the evening peak load, which more than offsets the small increase in the early morning load caused by the change.