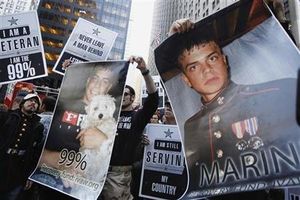 Los Angeles - Ex-Marine Scott Olsen, whose injury during clashes between Oakland police and demonstrators gave impetus to anti-Wall Street protests, said on Sunday he is "feeling a lot better" in his first public statement since his injury.
In a message posted to social networking site Google Plus, 24-year-old Olsen thanked those who had been tracking his progress for their outpouring of support.
"I'm feeling a lot better, with a long road in front of me," Olsen wrote. "After my freedom of speech was quite literally taken from me, my speech is coming back but I've got a lot of work to do with rehab."
The post is accompanied by a photo of Olsen, smiling with a neck brace on and a visible scar on his forehead.
"Thank you for all of your support, it has meant the world to me," he continued. "You'll be hearing more from me in the near future and soon enough we'll see you in our streets!"