Society's Child
RonPaul2008dotcom
YouTube
Fri, 11 Feb 2011 08:22 UTC
Ron Paul speaks with Wolf Blitzer on Egypt and the GOP nomination during the Conservative Political Action Conference (CPAC).


---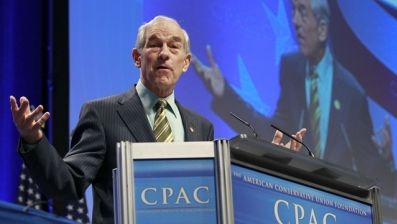 For the second year in a row, Ron Paul won the presidential straw poll at the annual Conservative Political Action Conference, earning 30 percent of the vote.
The Texas congressman, known for his libertarian views, ran for president in 2008 but was never a serious contender for the GOP nomination.
Former Massachusetts Gov. Mitt Romney, a 2008 GOP candidate who is expected to run again, came in second place with 23 percent of the vote. Romney won the previous three presidential straw polls before Paul snapped his streak last year.
Many convention-goers booed when the results were announced but the Paul supporters drowned them out with chants of "Ron Paul! Ron Paul! Ron Paul!"
Paul's consecutive victories in the straw poll have frustrated many GOP faithful who would rather see a more credible contender win. A CPAC official told Fox News that the big story is not Paul winning again but rather the strength of Romney's second-place finish.
---
Mohammed Mukhashaf and Khaled Abdallah
Common Dreams
Fri, 11 Feb 2011 00:00 UTC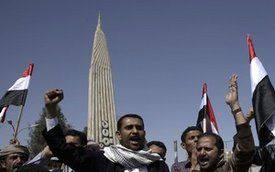 Aden, Yemen - Around 3,000 people took to the streets across southern Yemen in a "Friday of Rage", demanding secession from the north, but heavily deployed security forces quickly stamped out protests, residents said.
The protests come in the lull after a wave of anti-government rallies spread across Yemen over the past two weeks, inspired by the revolts that ousted Tunisia's former president and the uprising in Egypt that threatens President Hosni Mubarak's 30-year rule.
"Revolution, revolution for the South," protesters chanted in the flashpoint cities of Aden, Dalea and Zinjibar.
Yemen experts say the real danger to the three-decade rule of President Ali Abdullah Saleh, a key U.S. ally against al Qaeda, is if protesters from his political opposition join with rebel groups such as the separatists in the south and the Shi'ite insurgents he has made a shaky truce with in the north.
---
BBC
Sun, 13 Feb 2011 04:38 UTC
Egypt's army is attempting to clear protesters from Cairo's Tahrir Square - the focal point of the uprising that led to President Hosni Mubarak's departure.
Soldiers moved into the square in an attempt to squeeze the demonstrators out. But the BBC's Jon Leyne in Cairo says that the protesters responded with the arrival of reinforcements, leaving the army unsure of what to do.
---
Amy Sullivan
Time
Sun, 13 Feb 2011 00:15 UTC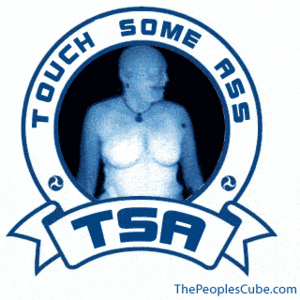 Ever since the TSA started putting back-scatter devices into use at selected airports last fall, I've been waiting to have the chance to opt out and register a one-woman protest against the machines. (
Jeff Goldberg doesn't get to have all the fun.
) However, most of my recent air travel has been with a tiny traveling companion, and I've been pleasantly surprised that at six different airports, TSA agents have directed us away from the back-scatter devices and through metal detectors, simply because I had a three-month-old baby in my arms.
(I also learned that the Irish-Catholic TSA agents in Boston will eagerly carry your luggage and reassemble your stroller when they learn your daughter's name is Finoula. I warned her not to expect such special treatment everywhere.)
So I was awfully pleased when I arrived at a security checkpoint in Miami International Airport this morning and discovered that my line fed into a back-scatter device, even though metal detectors were in use for the other lines. When it was my turn, I politely said that I would like to opt out. "Seriously?" the first TSA worker asked me with a raised eyebrow. Yes, seriously.
He directed me through the nearby metal detector (the one that would have been good enough if I'd just chosen another line) and motioned for me to wait for a pat-down agent: "Female opt-out!" A female agent led me to a table where she set my bags and then skeptically asked if I knew what the pat down involved. Yes, indeedy (thanks, Jeff Goldberg!) "Do you want to do this somewhere private?" No, thank you. The agent calmly explained what she was going to do before she performed each part of the procedure, and very briskly but thoroughly went through the pat-down. The whole thing was over in a matter of minutes and was a completely professional experience.
---
A Catholic priest who admitted having a sexual relationship with a high school girl more than 40 years ago was removed his position, and a high-ranking official who oversaw the background checks of priests resigned.

The Roman Catholic Archdiocese of Los Angeles announced Friday that the Rev. Martin P. O'Loghlen, who worked at Holy Name of Mary Church in San Dimas, was removed from any priestly activities.

The archdiocese said it was reacting to inquiries from a New York Times reporter researching an article about O'Loghlen.

The 74-year-old priest is accused of having a long-term sexual relationship with the teenage girl beginning in 1960, and seeking her forgiveness later, the Los Angeles Times reported.

Cardinal Roger M. Mahony separately accepted the resignation of the Archdiocesan Vicar for Clergy, Msgr. Michael Meyers. Archdiocese spokesman Tod Tamberg told the Times that Meyers had been in charge of procedures intended to ensure that no sexual predators remained in ministry positions. He had held that position since 2009.

The archdiocese said it had not received any complaints about O'Loghlen during the two years he had been assigned to the San Dimas church.
---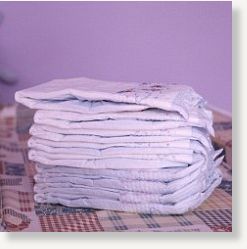 A live-in male nanny who had a disturbing fetish for soiled nappies and kept a dirty one underneath his bed pillow has been jailed for 16 months.
Tony Barnes, 30, had 63 pornographic pictures of children and hundreds of babies and young girls in nappies on his laptop, a court heard.
He was arrested in 2009 after his boss - a mother-of-three from Winnipeg in Manitoba, Canada - tried to close his laptop and found the sexually explicit pictures on his laptop.
Police searched his room after obtaining a warrant and found an 'abundance of diapers', including a dirty one under a pillow, Terry McComb, prosecuting, said.
They also found the pictures of children and a series of online chats in which he freely discussed sexually abusing children, often using soiled nappies.
He was hired five months before by the parents through Nannies International, which provided 'glowing work references', Mr McComb said.
'The family just thought he was golden - they thought he was great,'
he added.
---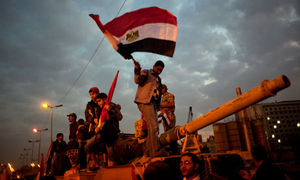 Egypt's new military administration and the pro-democracy protesters who brought down Hosni Mubarak were at odds today over the path to democratic rule.
The army sought to stave off pressure from jubilant protesters to swiftly hand power to a civilian-led administration by saying that it is committed to a "free democratic state".
The military leadership gave no timetable for the political transition, and many of the demonstrators who filled Cairo's Tahrir square for 18 days rejected the military's appeal to dismantle the barricades and go home.
They said they were waiting for specific commitments from the military on their demand for a civilian-controlled interim administration, the lifting of the oppressive state of emergency and other steps toward political liberalisation.
---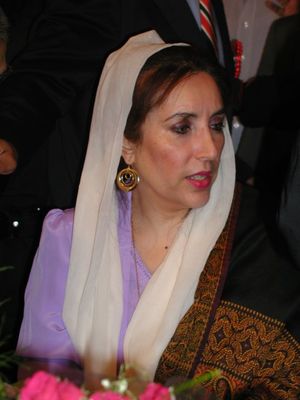 Former president under scrutiny over assassination of ex-Prime Minister Benazir Bhutto
Islamabad - A Pakistani court issued an arrest warrant for ousted military leader Pervez Musharraf on Saturday over allegations he played a role in the 2007 assassination of an ex-prime minister and rival. It was a major setback for the onetime U.S. ally, who was plotting a political comeback from outside the country.
Musharraf, who has not been charged, described accusations that he had a hand in the attack on ex-Prime Minister Benazir Bhutto as a smear campaign by a government led by her aggrieved husband.
The stunning allegation that Musharraf - a self-declared opponent of Islamic militancy - was linked to extremists accused in the attack was likely to keep him out of Pakistan, at least in the short term.
His possible arrest abroad did not appear imminent, but Pakistan's information minister, Firdous Ashiq, Awan said the government will contact Interpol about seeking Musharraf's detention if the court requests it.
Musharraf's spokesman said the former leader was in Dubai, with no plans to go to Pakistan. Speaking from London, where Musharraf has lived in self-imposed exile, Fawad Chaudri quoted him as saying that the accusations were "absurd and ridiculous."
---
BBC
Sat, 12 Feb 2011 12:23 UTC
---