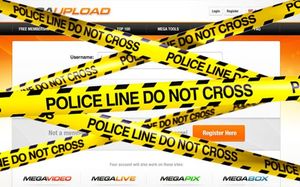 Anonymous' devious and speedy campaign to undermine the defenders of copyright yesterday served both as
revenge for the loss
of Megaupload and a demonstration of the futility of trying to police the Wild West of the Internet.
Within minutes of the Justice Department's
triumphant announcement
about the seizing of the massive
file-sharing site
, their own website was taken offline by a massive denial of service attack. The Web presences of the FBI, the MPAA, the RIAA, and several entertainment corporations involved in the case soon followed, as those tasked with protecting the Web from piracy were once again unable to protect themselves.
The speed and ease with which those sites were taken down should certainly give pause to those who think that any Congressional act is likely to stop troublemakers on the internet. As Gawker's Adrian Chen
explained
, the method used to launch the attacks was both simple and crafty - supporters simply distributed an innocent looking link that, once clicked, temporarily turned the user's computer into attack bot, often without their knowledge. There's little harm to the user, but it allows those doing the attacking to quickly and easily
enlist thousands
of Internet users to join in the fun/mayhem.