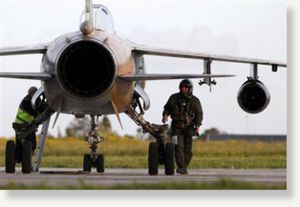 Tripoli - Libyan military aircraft fired live ammunition at crowds of anti-government protesters in Tripoli, Al-Jazeera television reported Monday.
"What we are witnessing today is unimaginable," said Adel Mohamed Saleh, an activist in the capital whose accounts could not be independently confirmed. "Warplanes and helicopters are indiscriminately bombing one area after another. There are many, many dead.
"Our people are dying. It is the policy of scorched earth," he said.