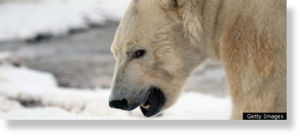 Canada: Goose Grove, Newfoundland and Labrador - Fifty-five-year-old Louis Reardon got the shock of his life early Thursday when he leapt out of bed to his son's cries of "Polar bear!" as a large male bear broke into their home in northern Newfoundland.
"He had the door busted open to the dining room with his two front paws and his head in through the door," Reardon said from tiny Goose Cove, just south of St. Anthony, N.L.
"I mean, it frightened the wits right clean out of me, to be that close to a polar bear."
Reardon's son Damien, 29, had heard a ruckus and flicked on the light to discover the animal. Polar bears are notoriously aggressive when cornered, and Damien slammed on a table trying to frighten the intruder as his father raced for a shotgun.
"A polar bear doesn't usually back down," Louis Reardon said. "If he came in the house, God knows what he would have done before he went out."
His other son, his daughter, her three young children and her boyfriend had all been sleeping when the commotion started just after 4 a.m.