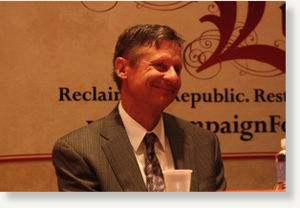 Former Gov. Gary Johnson (R-NM) announced Thursday morning that he's running for president in 2012, adding a fresh libertarian perspective to a field of candidates touting their social conservative credentials.
The ex-governor is perhaps best known in recent years as an outspoken opponent of the drug war who believes
marijuana should be legalized
. He's
in favor of same sex marriage
, saying it would reflect America's commitment to "freedom" and "liberty." And he
wants to get out
of Iraq and Afghanistan.
Johnson, a long-shot at best for the GOP nomination, first made the announcement on
Twitter
, following it with a series of tweets previewing his campaign platform.