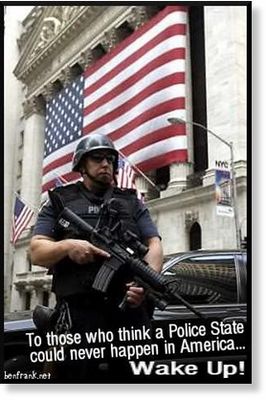 Dudes, I'm done with this. I'm leaving the United States today, and won't be back for a while. I recently visited my childhood hometown and noticed a whole bunch of brand new surveillance cameras at nearly every intersection and street corner; this is just a town, mind you, not some city of national or international significance.
After doing some research, it turns out the cameras are "high-definition" 24/7 surveillance cameras, manufactured and operated by Sprint Nextel Corp, and paid for through federal Department of Homeland Security grants to the town's local police department.
In fact, the number of these cameras in my hometown has reportedly
tripled
over the past couple years. There are as many as six of them at each intersection, they aren't red light traffic cameras (topic for another article altogether, though).
Here's a photo
I took of the cameras.
Do you really think these are there to make your 10 minute drive to the Applebee's safe from terrorists? Do you?
On another note, I was recently at a ball game: they now ask you to rise twice to sing the national anthem and pledge your allegiance. As a child, I only remember this occurring once, normally at the start of the game.
It was
recently revealed
that the NSA, according to a former high-ranking official there, is building "dossiers" on MILLIONS of American citizens and may be routinely spying on countless Americans on U.S. soil, in clear violation of our laws and principles as a nation.