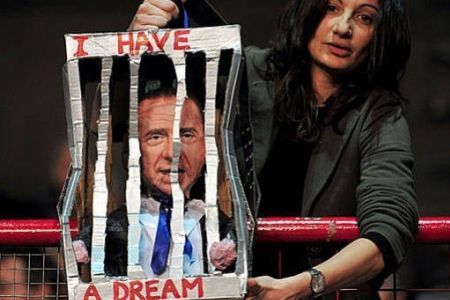 Italian anti-riot police have arrested two protesters at a thousand-strong rally held in Milan against scandal-plagued Prime Minister Silvio Berlusconi.
Thousands of Italian protesters, including writers and intellectuals, protested on Sunday, demanding the premier's resignation as soon as possible.
"Resign, resign!" the protesters shouted at the gates of Berlusconi's private villa in the Milan suburb of Arcore, where he was spending the weekend.
Clashes with riot-police erupted when protesters tried to break a security cordon erected several hundred meters from Berlusconi's residence. They threw bottles and other objects at the Italian police.
Another clash took place in front of Arcore's train station between several officers and demonstrators, which left a journalist injured, police said. Police arrested two protesters in the clash.
The organizer of the rally was an Italian activist group called Justice and Freedom.