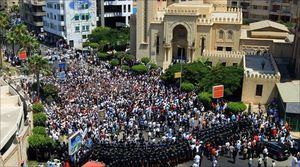 Attacks on Foreign Press Growing During Egyptian Uprising
A group of angry Egyptian men carjacked an ABC News crew and threatened to behead them today in the latest and most menacing
attack on foreign reporters
trying to cover the anti-government uprising.
Producer Brian Hartman, cameraman Akram Abi-hanna and two other ABC News employees were surrounded on a crowded road that leads from Cairo's airport to the city's downtown area.
While ABC News and other press agencies had been taking precautions to avoid
volatile situations
, the road to the airport had been a secure route until today. One of their two vehicles was carrying cameras and transmission equipment strapped to the roof, indicating they were foreign journalists.
Hartman says it was only through the appeal of Abi-hanna, who is Lebanese and a veteran ABC cameraman, that they were saved from being killed or severely beaten.
"We thought we were goners," Hartman said later. "We absolutely thought we were doomed."