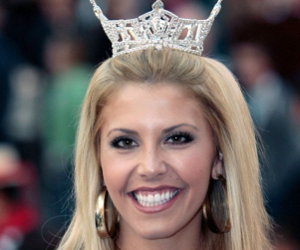 Former Miss Nevada 2007 Caleche Manos says that law enforcement officers busted into her Santa Monica, CA apartment, on November 15, 2011, and forced her to get out of bed without any clothes on, all because they targeted the wrong apartment.
The officers then reportedly joked that Manos would "have a story to tell at Thanksgiving."
Instead of a story to tell, Manos and her fiance, Eric Otto Ryder, have sued Los Angeles County and the Los Angeles County Sheriff's Department.
The lawsuit says that the officer's warrant was clearly marked and intended for apartment 'C,' while Manos lives in apartment 'A.'