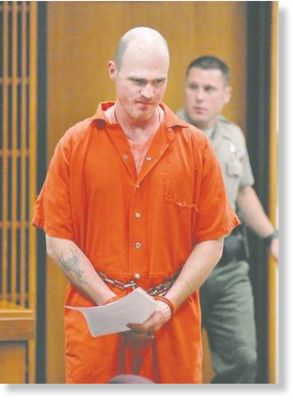 Washington State - Convicted felon Patrick B. Drum, accused of murder in the weekend shooting deaths of two convicted sex offenders - one of them his roommate - had intended to kill more sex offenders when he was arrested following an extensive manhunt, Clallam County Prosecuting Attorney Deb Kelly said Monday.
A probable-cause statement issued Monday by the Clallam County Sheriff's Department alleged that Drum, 34, of Sequim committed two counts of first-degree murder and one count of first-degree burglary.
The victims were Drum's roommate, Gary Lee Blanton Jr., 28, found dead at the 5011 Sequim-Dungeness Way residence Blanton and Drum shared.
Jerry W. Ray, 56 - earlier accounts had said he was 51 - was found dead at Ray's 31 Heuhslein Road home east of Port Angeles.
Drum was arrested with a shoulder-holstered 9 mm pistol at about 2:30 p.m. Sunday after an intense manhunt by about 65 law enforcement officers from city, county, state and federal agencies, including the U.S. Border Patrol, which deployed a helicopter, authorities said at a news conference Monday afternoon.