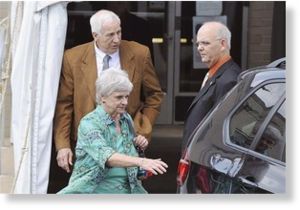 Bellefonte, Pennsylvania - A jury on Friday found former Penn State assistant football coach Jerry Sandusky guilty on 45 of 48 counts in his child sex abuse trial after some 21 hours of deliberation.
Sandusky, who faces potentially hundreds of years in prison, was escorted immediately out of the courthouse in handcuffs and taken into an awaiting sheriff's cruiser.
A large crowd gathered outside the Centre County Courthouse in central Pennsylvania to learn news of the decision, and cheered loudly as the news was released.
Sandusky stood and faced the foreman as the verdict was read. Sandusky, wearing a brown sports court, tucked his hands into the pockets of his gray pants and appeared expressionless.
His wife, Dottie, sitting behind him, showed no emotion.
"They're devastated," defense attorney Joe Amendola said of Sandusky's relatives, "but they've been devastated ever since these charges came to light."
Amendola said he was examining the grounds for an appeal.