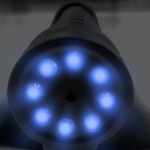 A security guard working at the FBI's Seattle office at 3rd Avenue and Seneca Street reported a suspicious object outside the building, just after 2 a.m. the morning of October 8th.
The Bomb Squad
was then sent in with two bomb disposal robots to investigate the mysterious object.
At that point, Seattle police closed streets around the Abraham Lincoln Building at Third and Seneca for over two hours as police and explosive experts were examining the device.
Then at around 4:38 a.m one of the robots were sent in to create an explosion to blow up the device while the area was under their control.
After blowing up the mysterious device FBI Spokeswoman Ayn Dietrich said that it was not explosive or hazardous and no threat had been made to the agency, but it was in fact just a flashlight, that may or may not have had a blinking red light on it somewhere, which gave the security guard and the entire police force the indication that it must be a bomb.